Aikido (jap.: 合気道) is a modern Japanese martial art, developed in the first half of the 20th century. Its founder, Ueshiba Morihei (1883-1969), had previously studied several martial disciplines of the samurai. After having reached mastery in these, he realized that true martial arts always contain an ethical component and should contribute to the personal growth of its practitioners. Because of that he redefined the goal of his martial art: Not the destruction of an enemy but the conclusion of conflict was to be the main goal.
Following Ueshibas ideas, it can never be fruitful to answer an attack with a counter-attack. That is because violence always creates further violence and in this way, a conflict ends in a vicious circle. To break out of this, an Aikidoka should take over responsibility not only for oneself, but on top of that also for the attacker and leave him unharmed from the confrontation.
This is an ambitious goal and a burning issue especially nowadays. But words alone don't help. On the mat this has to be practiced with the body. That happens by not blocking an attack but deflecting the energy of the attack, taking the balance of the attacker, and finally bringing him under control with a throw or joint lock.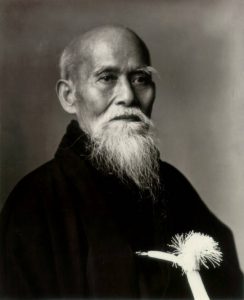 The techniques of Aikido are designed to let us become aware of the actual message of Aikido. They work better if one adapts to the adversary, remains smooth and doesn't impose ones intention on him but instead creates a joint movement. This is the message of Aikido, that ideally will be transferable to daily life after many hours of sweat on the tatami.
If you are curious and want to try one of these classes, why not complete the contact form? We're looking forward to meeting you!
The development if Aikido was very multifaceted. Perhaps it would be too much to attempt to present all styles that developed. Therefore, we concentrate on the most important people for our Aikido in chronological order.